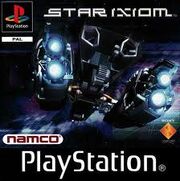 Star Ixiom
is one of the games that links the UGSF series together. It combines StarBlade with Galaga, and Bosconian.
The UIMS, Battura, Galaga, and Bosconians are launching an all-out assault on the Solar System! The only way they can be defeated is if the different UGSF districts work together as one. Project Star Ixiom has begun!
The gameplay ressembles it's preducessor Star Luster.